Blue Glacier builds cyber programs, solutions, and strategies that align with an organization's strategic mission objectives and its business operations, which emphasize risk management.
We integrate programs, solutions, and strategies in these areas through cross-cutting cyber-enabling functional knowledge in strategy program management and resiliency, to ensure people, processes, and technology are effectively integrated and aligned to the mission and business operations, and cyber risks are accurately managed and prioritized.
We deliver expertise in: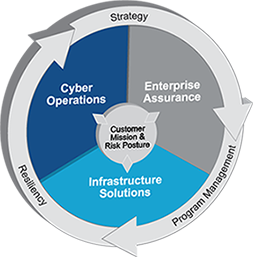 Monitor and identify risks, alert leadership, and resolve threats — based on organizational priorities.
24x7x365 Cyber Security Operations Center (SOC) implementation
24x7x365 SOC Managed Service Provider
Cyber Threat Intelligence Analysis
Cyber Hunt Operations
Incident Response and Analysis
Malware and Forensics Analysis
Incident Triage and Response
Incident Coordination and Management
Cyber Threat and Alert Communication Development and Management
Mitigation Strategy Development
SOC Tool Development
Cyber Operations Planning
Security Operations Management
Evaluate security posture, ensure compliance, and manage risk to an organization's infrastructure.
Strategic Planning & Mission Analysis
Governance
Workforce Development
Network and Infrastructure Vulnerability Assessments
Security Requirements Development
Security, Risk, and Compliance Assessments (NIST 800-63, 800-171, etc)
Penetration Testing (Red/Blue Teaming)
Continuity of Operations
Exercise Planning & Execution
Ensure an organization's cyber infrastructure will support mission and requirements.
Architecture Design & Planning
Requirements Management
Engineering Lifecycle Support
Technology Capability Analysis
Cloud Computing
Network Operations Center (NOC) Design
24x7x365 NOC Implementation, Operations, and Management
Help develop and update an organization's operational support capabilities with a structured and secure methodology .
Software Application design and build out
Code Analysis and review
Business Application Migration
SharePoint Development
Website Development and Management