The cyber market is extremely dynamic and must respond to the evolving threat space. Within our corporate mission and values, Blue Glacier emphasizes alignment to each of our individual customer's strategic mission objectives, business operations, risk posture, and culture.
Mission: Develop innovative approaches to provide customers with customized cybersecurity solutions that reduce the risks associated with the evolving threats and associated vulnerabilities (e.g., people-, process-, technology-based) within their cyber infrastructure.
Provide expertise in the complete lifecycle of cybersecurity programs that align with the customer organization's priorities and goals;
Facilitate risk-based executive decision-making around cyber infrastructure, assurance, and operations, enabling organizations to develop an integrated approach to managing and prioritizing cyber risks;
Attract the best and brightest talent, instill in them our corporate culture and standards of professionalism, and employ this talent to provide customer satisfaction.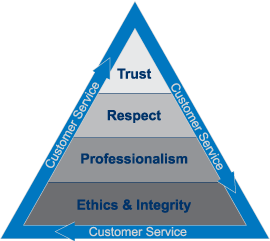 Corporate Values for Our Staff and Clients